Identification of donors for low-nitrogen stress with maize lethal necrosis (MLN) tolerance for maize breeding in sub- Saharan Africa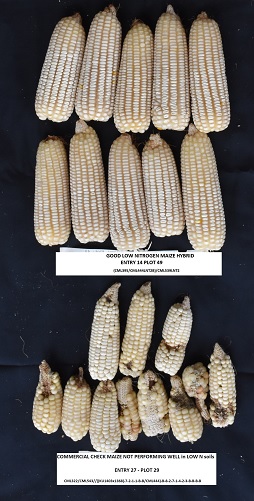 Version
Download
File Size

350.74 KB

File Count
Create Date

November 17, 2019

Last Updated

November 17, 2019
Identification of donors for low-nitrogen stress with maize lethal necrosis (MLN) tolerance for maize breeding in sub- Saharan Africa
After drought, a major challenge to smallholder farmers in sub-Saharan Africa is low-fertility soils with poor nitrogen (N)-supplying capacity. Many challenges in this region need to be overcome to create a viable fertilizer market.
An intermediate solution is the development of maize varieties with an enhanced ability to take up or utilize N in severely depleted soils, and to more efficiently use the small amounts of N that farmers can supply to their crops.
Over 400 elite inbred lines from seven maize breeding programs were screened to identify new sources of tolerance to low-N stress and maize lethal necrosis (MLN) for introgression into Africa-adapted elite germplasm. Lines with high levels of tolerance to both stresses were identified. Lines previously considered to be tolerant to low-N stress ranked in the bottom 10% under low-N confirming the need to replace these lines with new donors identified in this study.
The lines that performed best under low-N yielded about 0.5 Mg ha-1 (20%) more in testcross combinations than some widely used commercial parent lines such as CML442 and CML395. This is the first large scale study to identify maize inbred lines with tolerance to low-N stress and MLN in eastern and southern Africa.
Tags: donor line, low N, maize breeding, MLN, research impact, research publication