Drought-tolerant hybrid seed offers farmers reprieve from hunger
MACHAKOS, Kenya (CIMMYT) – The scorching heat from the sun does not stop Mary Munini, a middle-aged smallholder farmer in Vyulya, Machakos County, from inspecting her distressed maize crop. Traces of worry cloud her face.
"I will not harvest anything this season," she says, visibly downcast.
Like many other smallholder farmers spread across the water-stressed counties of Machakos, Makueni and Kitui, in Kenya's lower eastern region, Munini is staring at a massive crop loss. Prolonged dry spells have for years threatened the food security and livelihoods of many rural families in the region who depend entirely on rain for their agricultural production. Here, most smallholder farmers typically plant farm-saved maize seeds, which lack the attributes to tolerate harsher droughts, extreme heat or water stress. With such conditions, farmers can hardly harvest any maize.
"We just had a little rain at the start of planting. Since then, we have not had any more rain. As you can see, my maize could not withstand the extended dry spell," says Munini. Like her, over 80 percent of Kenyans depend on maize as their main staple food to supply their dietary requirements, especially in rural areas.
In a neighboring farm, the situation is different. The owner, Gitau Gichuru, planted the SAWA hybrid, an improved maize seed variety designed to withstand drought conditions. This variety was developed by scientists at the International Maize and Wheat Improvement Center (CIMMYT) and promoted to Kenyan farmers by Dryland Seed, a local seed company. This initiative to improve maize farmers' climate resilience in the region was possible thanks to the support of the Bill & Melinda Gates Foundation under the Stress Tolerant Maize for Africa (STMA) project. With the right agronomic practices, the SAWA hybrid can return a yield advantage of up to 20 percent compared to other popular drought-tolerant hybrids in the region, according to Dryland Seed's managing director, Ngila Kimotho.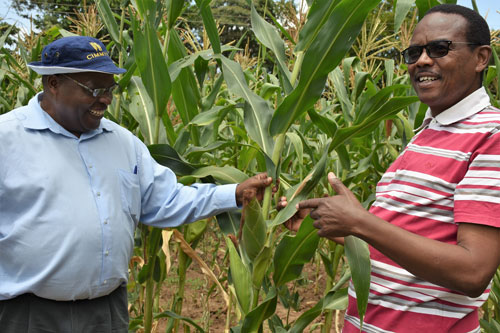 "This variety has become so popular in this region that we have decided to make it our flagship brand. There are occasions when the demand is so high that we run out of stock," Kimotho says.
Reaping the benefits
The company distributes improved seeds through a network of about 100 agrodealers across Kenya. One of the most effective ways to promote drought-tolerant hybrids such as SAWA is demonstration plots managed by lead farmers, who can showcase to their peers the hybrid's performance under recommended agronomic practices. Most of the demo farms are located by the roadside for better visibility to road users, who frequently stop and ask about the healthy-looking maize crop. Field days have also had a positive effect of creating awareness and getting farmers to adopt the SAWA hybrid and other improved seed varieties. Farmers attending field days are ordinarily issued with small seed packs as samples to try out on their farms.
Gichuru, who planted the SAWA hybrid maize seed for the first time last season, is happy with the results. "I decided to try it on a portion of the land that is sandy. We have only had some little rain, twice or so, at the time of planting and during the vegetative state. To be honest, I didn't expect the crop to amount to anything. But, as you can see, I am looking forward to a good harvest," Gichuru says.
Doris Muia, a mother of three who has planted the hybrid for two years at her farm, is equally happy with the outcome. She says her household will never lack food and she hopes to get additional income from the sale of the surplus maize produce.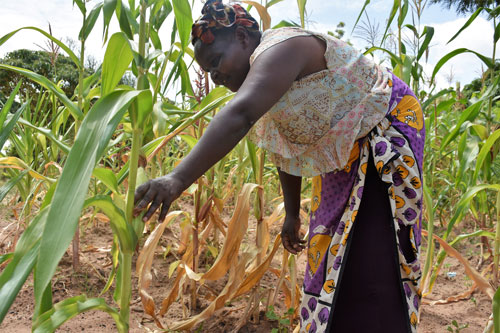 "When we see how the varieties that we have developed such as the SAWA hybrid are putting smiles on farmers' faces, this makes us very happy," expresses Stephen Mugo, CIMMYT Regional Representative for Africa.
For some farmers, however, it is hard to gather the money to buy improved seed varieties. The little income Munini earns from her small shop goes towards supporting her children's education, and she often has nothing left to buy improved hybrid seed varieties, despite being aware of the advantages. In other instances, some farmers often buy small portions of the improved maize variety and mix it with farm-saved seed stock or poor-quality seeds from informal sources. "The expectation is that if one variety succumbs to drought or severe heat, the next variety may survive. However, with proper agricultural practices, hybrids such as SAWA can cope well against such climate stresses, thereby improving the smallholders' livelihood and food security," concludes Mugo.
Trackback from your site.