Doubled haploid technology for line development in maize: technical advances and prospects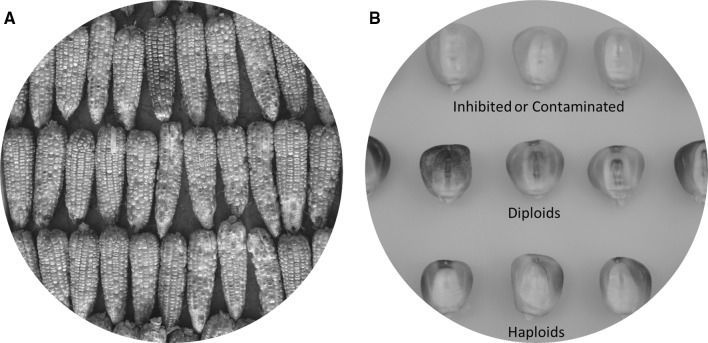 Version
Download

1

File Size

1.63 MB

File Count

1

Create Date

November 17, 2019

Last Updated

November 17, 2019
Doubled haploid technology for line development in maize: technical advances and prospects
Doubled haploid (DH) technology has become an integral part of many commercial maize breeding programs as DH lines offer several economic, logistic and genetic benefits over conventional inbred lines. Further, new advances in DH technology continue to improve the efficiency of DH line development and fuel its increased adoption in breeding programs worldwide.
The established method for maize DH production covered in this review involves in vivo induction of maternal haploids by a male haploid inducer genotype, identification of haploids from diploids at the seed or seedling stage, chromosome doubling of haploid (D0) seedlings and finally, selfing of fertile D0 plants.
Development of haploid inducers with high haploid induction rates and adaptation to different target environments have facilitated increased adoption of DH technology in the tropics. New marker systems for haploid identification, such as the red root marker and high oil marker, are being increasingly integrated into new haploid inducers and have the potential to make DH technology accessible in germplasm such as some Flint, landrace, or tropical material, where the standard R1-nj marker is inhibited.
Automation holds great promise to further reduce the cost and time in haploid identification. Increasing success rates in chromosome doubling protocols and/or reducing environmental and human toxicity of chromosome doubling protocols, including research on genetic improvement in spontaneous chromosome doubling, have the potential to greatly reduce the production costs per DH line.
Tags: double haploid, genetic gain, haploid inducer, research publication